Hypnosis is a natural and very normal state of mind in which the body experiences physical relaxation while the mind remains clear. In this state of awareness, the subconscious mind becomes open and suggestible. Hypnosis provides an easy opening to facilitate positive changes to take place.
To see Rebecca Berke's recent television interview, click below…
(Please note: You will be taken to DropBox to view video)
Hypnosis has lasting positive effects in these areas:
Self Improvement
Weight Management
Smoking Cessation
Drugs and Alcohol Addiction
Unhealthy Habits
Stress Management
Fears and Anxiety
Self Confidence and Self Esteem
Procrastination
Sports and Athletic Performance
Develop Talents
Concentration and Focus
Stage fright
Test Anxiety
Sales Improvement
Increase Motivation
Improve Job Satisfaction
Enjoy Quality of Life
Releasing Emotional Blocks
Health and Well Being with Medical Hypnosis
Pain Management
Medical Procedures
Preparing for Surgery
Post operative Healing
Motivation for Recovery
Sleep Disorders
Weight Management
Exercise Motivation
Smoking Cessation
Drugs and Alcohol Addiction
Unhealthy Habits
Stress Management
Fears and Anxiety
Phobias
HypnoBirthing®
You are Invited!
Complimentary Back to School workshop for 
Strength, Stability and Happiness! 
  Shelly Ayers and Rebecca Berke offer this unique
opportunity to learn how to tune in, center and feel good as you enjoy each moment of transition.
Build Strength, Stability and Happiness as you navigate life's changes of seasons, schedules & more. Shelly Ayers will lead a one hour flow yoga sequence to help us be open and receptive to the changing currents in our life.
Rebecca Berke will guide us through mindful awareness practices to help us ease our natural resistance to change.  Making changes for better self-care transforms our world in wondrous and amazing ways.
 Saturday, September 20th, 2014 , at 12:00pm to 2:00pm  The Yoga Company,  2410 San Ramon Valley Blvd #129, San Ramon, CA 94583
Space is limited. 
RSVP required by  September 10th.
Recommended for 18 years and older
More about Shelly Ayers, Certified Hatha Yoga Instructor at:
Schedule and full description of services on website
workshop flyer
Call or Email Today to 
Enjoy this Opportunity!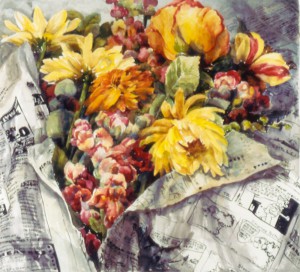 Painting by: TerreceBeesley.com
 Hypnotherapy can facilitate you to fulfill your best life, your goals and to enjoy each and every moment. Beauty and wonder will and can emerge from what could just be the stories of your life.  The best parts can be brought forth and make a lasting difference as you live your desired life.
913 San Ramon Valley Blvd. Suite 280
Danville, California 94526